mazanki (fiddle)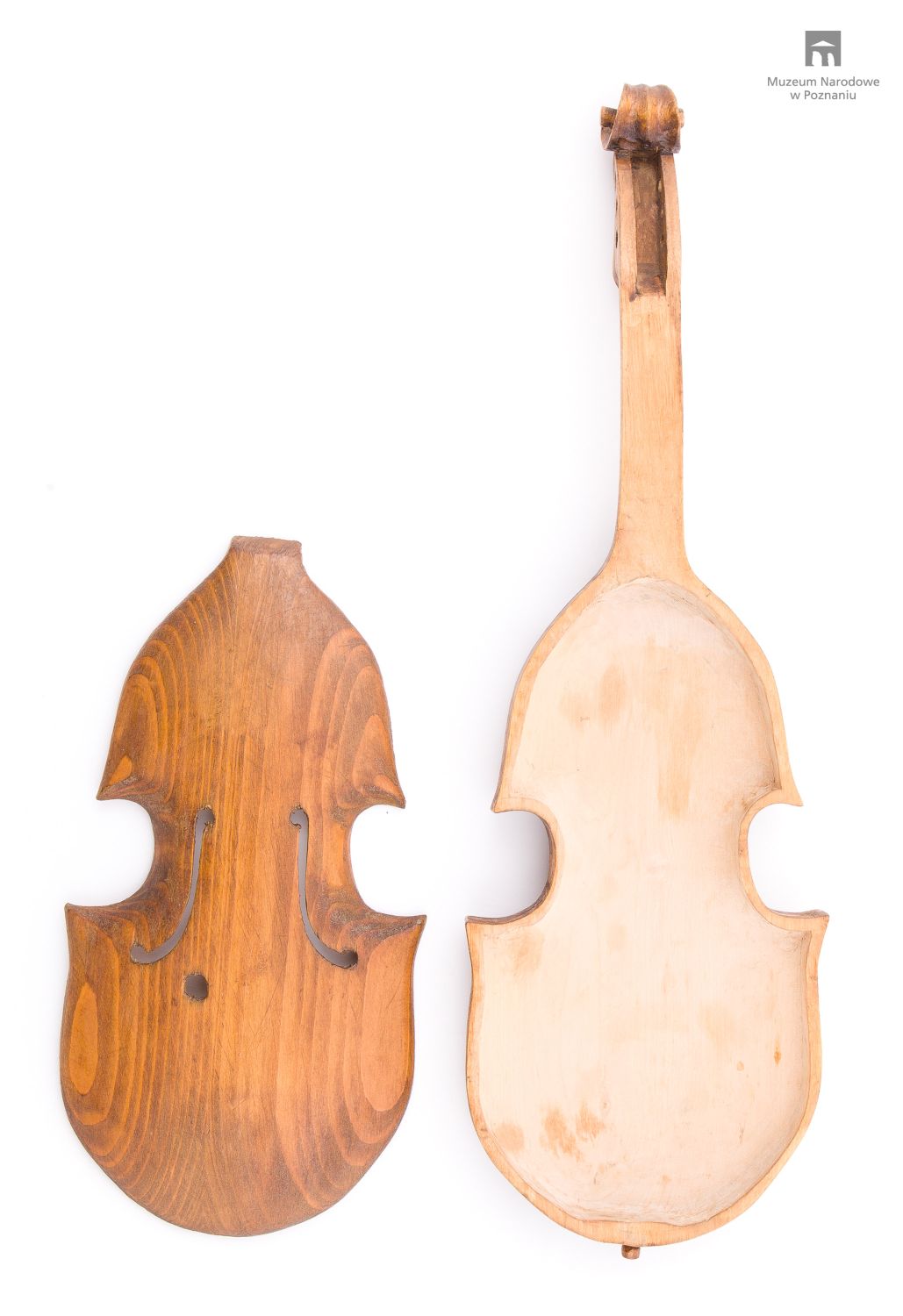 mazanki (fiddle)
Local name
: mazanki
Classification
:
3 Chordophones
/
32 Composite chordophones
/
321 Lutes
/
321.3 Handle lutes
/
321.32 Necked lutes
/
321.322 Necked box lutes or necked guitars
/
321.322-71 Necked box lutes or necked guitars sounded by bowing with a bow
Maker
: Śliwa Tomasz
Date
: ca 1960
Village / Town
: Chrośnica
Region
: Greater Poland
Country
: Polska
Owner
: Musical Instrument Museum, department of the National Museum in Poznań
Inventory number
: MNP I 1924
Description
: a newer, violinised, form of the mazanki introduced by Tomasz Śliwa from S. Moniuszko Music School in Zbąszyń (with clearly formed four corners, which makes the upper bout in particular markedly wider); back plate, ribs, neck and pegbox carved from one piece of wood; three strings; f-holes without crosswise cuts; a hole in the top plate for the longer foot of the bridge (which is supported by the back plate); instrument in parts, before assembling
Measurements
: 493 x 153 x 21 mm
Materials
: wood
Sound compass, tuning
: in 5th (e.g. f' – c'' – g''), adjusted to the black goat's tuning, higher than violin's one
Performance practice
: an instrument with medieval roots; before World War I used during the ritual part of the wedding (wedding feast) together with the wedding bagpipe; after World War II reactivated in the S. Moniuszko Music School in Zbąszyń; now used in the folk revival, too. Kierski (1861): "From the arrival of the guests until the first supper, the violinist uses a small and very high-pitched violin called mazanki, and for the lack of one he ties up an ordinary violin almost in the middle, which makes it emit a shrill sound like the mazanki [he is accompanied by a musician playing a black goat]. For as long as the mazanki is playing, the groom should treat the guests to his vodka and beer and pay for any damage himself. But once the violin starts playing [which is accompanied by the white goat], all the costs for vodka and beer and other unforeseen expenses or damages should be borne by the wedding guests. Until supper, the guests remain in the fine clothes that they wore in the church; thereafter, they cast off their overcoats, don their cloth undercoats, made of navy blue cloth, and the merriment lasts until morning."
Catalog card by
: Janusz Jaskulski / Zbigniew J. Przerembski
Oberek; Edward Rybicki (1908-1983, Stefanowo), mazanki; rec. Warsaw 1949; Sources of Polish Folk Music
Edward Rybicki, mazanki; rec. Jadwiga and Marian Sobieski, Chrośnica 1950; ISPAN
<< Back