bagpipe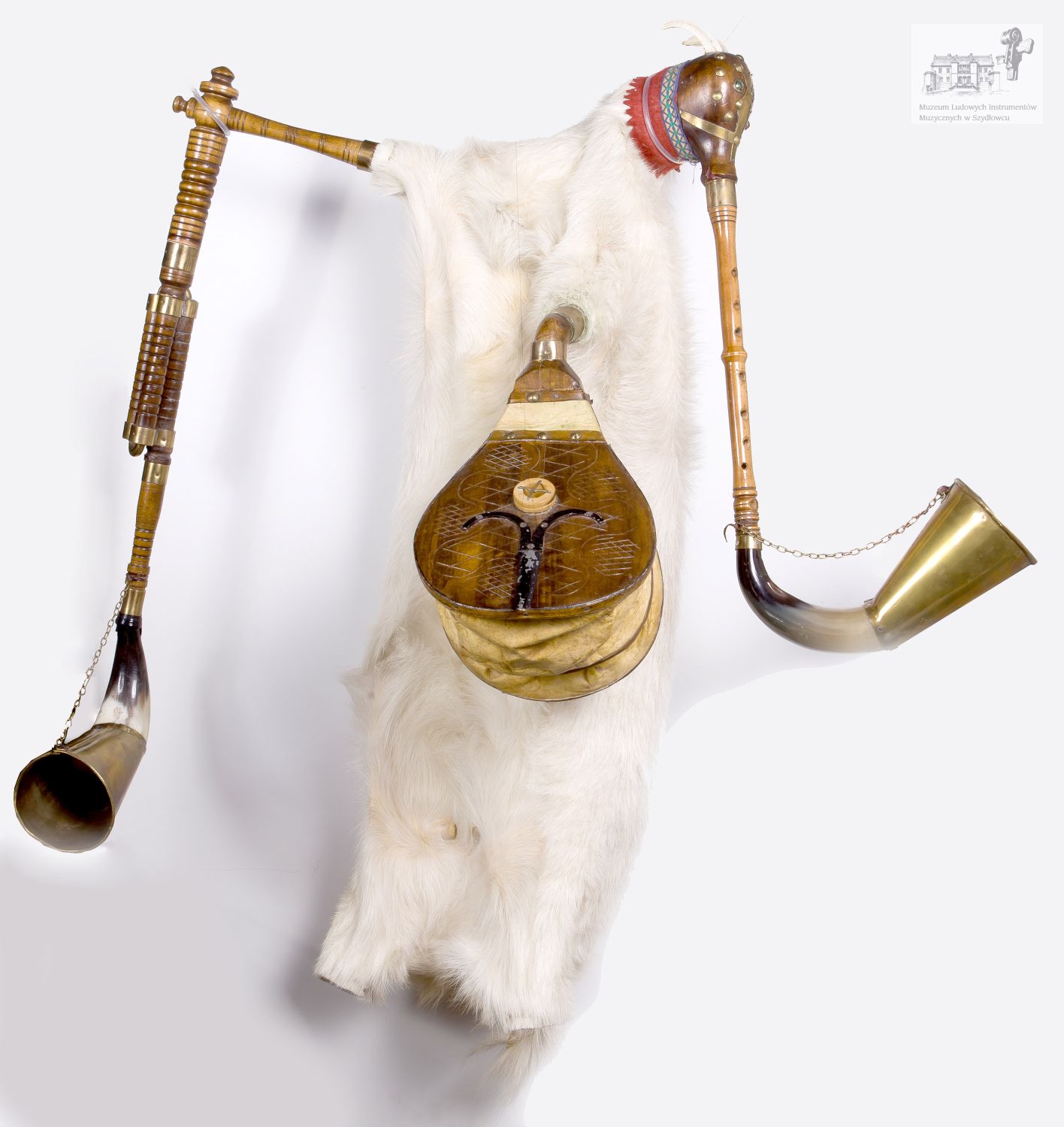 Jan Prządka (b. 1959, Zbąszyń), white goat; rec. Zbąszyń 2012; IMIT



Jan Prządka, white goat; rec. Waldemar Kielichowski, Warsaw 2015; IMIT
bagpipe
Local name
: kozioł weselny, kozioł biały (wedding reception goat, white goat)
Classification
:
4 Aerophones
/
42 Wind instruments proper
/
422 Reedpipes
/
422.2 Reedpipes with single reeds (clarinets)
/
422.21 Individual reedpipes with single reeds
/
422.211 With cylindrical bore
/
422.211.2 With fingerholes
/ 422.211.2 + 422.211-62 Single-reed chanter with cylindrical bore, with fingerholes + single-reed drone with cylindrical bore, flexible air reservoir for all pipes
Maker
: Prządka Czesław
Date
: 1984
Region
: Greater Poland
Country
: Poland
Owner
: Museum of Folk Musical Instruments in Szydłowiec
Inventory number
: MLIM/MS/619
Description
: an instrument with bellows; cylindrical pipes: a chanter (fingerholes 7+1, one tuning hole) and a double bend drone, both ending in conical, arched horn-metal bells; bag made from a white goat's whole skin with hair on the outside
Decoration
: the connector between the chanter and the bag has the shape of a stylized goat head, with horns of bone, metal and glass applications; studded; metal rings on pipes
Materials
: wood, leather, metal, cloth
Sound compass, tuning
: E♭: b♭ – c' – d' – e♭' – f' – g' – a♭' – b♭' – c'' – d'' – e♭''
Performance practice
: a bagpipe with 16th c. roots; the biggest of Polish bagpipes with the lowest tuning and an elegiac sound; traditional element of west Greater Poland folk bands (together with violins and an E-flat clarinet after World War I). Kierski (1861): "From the arrival of the guests until the first supper, the violinist uses a small and very high-pitched violin called mazanki, and for the lack of one he ties up an ordinary violin almost in the middle, which makes it emit a shrill sound like the mazanki [he is accompanied by a musician playing a black goat]. For as long as the mazanki is playing, the groom should treat the guests to his vodka and beer and pay for any damage himself. But once the violin starts playing [which is accompanied by the white goat], all the costs for vodka and beer and other unforeseen expenses or damages should be borne by the wedding guests. Until supper, the guests remain in the fine clothes that they wore in the church; thereafter, they cast off their overcoats, don their cloth undercoats, made of navy blue cloth, and the merriment lasts until morning."
Catalog card by
: Zbigniew J. Przerembski
Design (PDF)
white goat; rec. Museum of Sound
<< Back